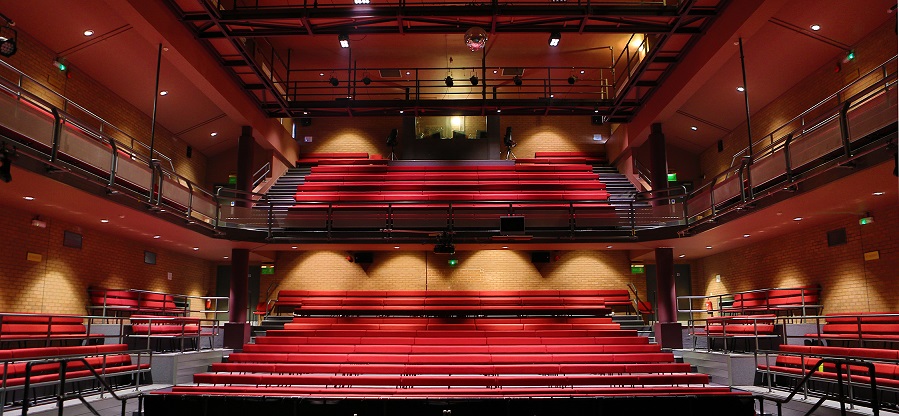 Booking information
Box Office (phone only):
Opening Hours: Monday, Wednesday, Friday 9.00am – 12.00noon
and 1 hour before the start of each event.
Contact: 01242 258002
Email: team@bacontheatre.co.uk
Booking fees:
All tickets purchased will attract a £2.00 booking fee per transaction (or £1 for a single ticket purchase).
Online:
Our online booking system is powered by Ticketsolve and enables a secure platform for making ticket payments via the Bacon Theatre website 24hrs/day. The system enables you the flexibility to select your seats and you will receive an e-ticket via email to confirm your booking. The e-ticket allows you to either show your tickets to the Front Of House Ushers on the door using your phone, or print them out onto paper. Please think before you print! We would prefer that you show your e-ticket on your smart phone or device and save paper.
Payment:
We accept cash, and all major credit / debit cards, excluding American Express.
Concessions:
These apply to over 60s, students, children under 18, and registered unemployed patrons.
ID may be required. (Concession prices are subject to certain shows only).
Registered disabled patrons are also entitled to a concessionary ticket, plus a second ticket for a companion to join them for the event free of charge. Please call the box office to arrange this and to discuss any specific requirements you may have.
Group discounts:
Some events attract a 10% discount when 10 tickets are bought together and bespoke group discount packages may also be offered to larger groups. Please call the box office for more details.
Vouchers:
Theatre vouchers for the Bacon Theatre make an ideal gift and vouchers of £15, £25 and £50 are available to purchase. These may be bought by calling the box office on 01242 258002 or by clicking here.
Return of tickets:
Tickets are non-refundable and we regret that we are unable to refund tickets unless a show is cancelled.
If an event is sold out we will try to re-sell them for you up to 72 hours before the show.
You are able to re-sell or pass on any tickets that you cannot use.
Rescheduled shows:
If a show is rescheduled you will have two weeks from the confirmation of the new date in which to request a refund or exchange. After that you are confirming your attendance and we will not be able to issue a refund unless we cancel a show.
Changing your mind due to Covid concerns:
All shows are currently running as planned. If the performance you have booked for has not been cancelled, then we will not issue a refund, exchange or credit.
Lost property:
Lost property found in the theatre auditorium, green room or foyer will be kept for three weeks and will then be disposed of. Give us a call if you think you have mislaid something at the theatre.
Please note that although changes to the advertised programme are rare, some events may be subject to change at short notice. The Bacon Theatre reserves the right to introduce discounts and price changes without notice. Any changes introduced will not apply to tickets that have already been purchased.